Here you'll find a U.S. Census Bureau map of all 50 States:
The new, free geocoding application geoDataClient makes is even easier to create 3D views of your favorite place in no time. We recommend to use it instead of the separate Tiger and DEM files referenced below.
Why? geoDataClient does the geocoding, downloading, georeferencing, coloring, and even the scenery creation automatically.
Example:
Alabama - Mobile Bay:
Pensacola - West         31°N/088°W-30°N/087°W Tiger DEM
Instead downloading from the two links, you may open geoDataClient. Note the desired top left latitude, 31 degrees N, and the top left longitude, 88 degrees W.
West: -88 degrees, North: 31 degrees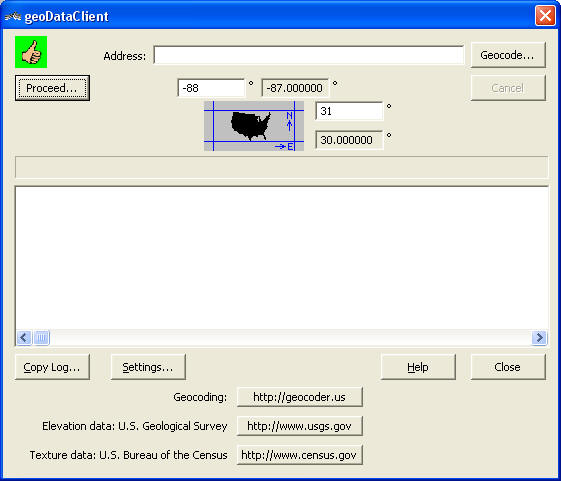 Settings... Quad Size: 1.000 degree, Align quad to grid, Remove intermediate files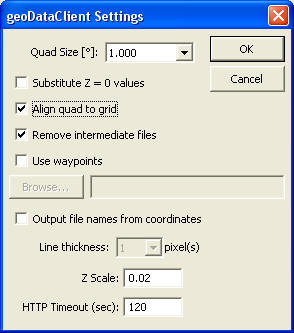 Back to the main window, Proceed...
This is what will be printed to the output window (all you need is check the bottom line, "...successfully finished.")
Get the elevation data first: Shuttle Radar Topography (SRTM) data.
Waiting 10 seconds - request submitted, server prepares dataset
Waiting 20 seconds - maybe repeatedly, that's up to the server's load
Waiting 1 second - ah, the file has been prepared on the server side, ready for download
Waiting 0 second - start the download
Executing HTTP request: "http://tiger.census.gov......" - this is the texture file
Stretching...Shrinking... - do the georeferencing
Download successfully finished. - That's what we've been waiting for
The whole procedure normally takes under one minute.
The result are four files (NNNNNNNN is an arbitrary eight digit number):
NNNNNNNN_1.trf - a scenery file
NNNNNNNN_2.trf - another scenery file
NNNNNNNN_el.tga - an elevation file
NNNNNNNN_tx_c.tga - a texure file exactly matching the elevation file
Both sceneries were designed to give the viewer just a short overview; each scenery renders 100 images creating a very short flyby. To get an impression of the camera motion as a wireframe animation, open any of the TRF files using TruFlite, then press Ctrl+E (Calculate/Preview...). To start the final rendering, press Ctrl+F (Calculate/Final...). To stop rendering inbetween, press Ctrl+T (Calculate/Stop rendering...).
Below is the result. Keep in mind: This is only a rough overview for a first impression. You can greatly enhance the image quality by changing TruFlite's camera parameters like e. g. the output image size and the camera focal length.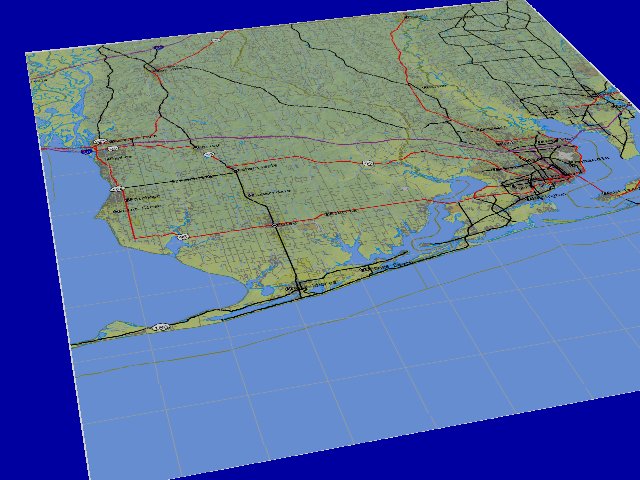 ---
The list below contains links to texture (Tiger) and elevation (DEM) data so that you can create images of some of America's most interesting landforms.
Users of TFMAKE don't need to follow the links below: Just specify the northwest coordinates. Type
TFMAKE_3ARCSECOND.BAT -88 31
for e. g. "Pensacola - West" or
TFMAKE_3ARCSECOND.BAT -111 38
for "Escalante - East", and so on.
If you have any questions or comments about this service, drop us a line at martin@truflite.com.
The coordinates below specify the northwest and southeast corners of each 1° quad, resp.
Alabama - Mobile Bay
Pensacola - West         31°N/088°W-30°N/087°W Tiger DEM
Mobile - East            31°N/089°W-30°N/088°W Tiger DEM
Alaska - Mount McKinley
Mount McKinley - West    64°N/153°W-63°N/152°W Tiger DEM
Mount McKinley - Center  64°N/152°W-63°N/151°W Tiger DEM
Mount McKinley - East    64°N/151°W-63°N/150°W Tiger DEM
Arizona - Monument Valley
Escalante - East         38°N/111°W-37°N/110°W Tiger DEM
Marble Canyon - East     37°N/111°W-36°N/110°W Tiger DEM
Arkansas - Ouachita Lake
Little Rock - West       35°N/095°W-34°N/094°W Tiger DEM
California - Mt. Shasta
Weed - East              42°N/123°W-41°N/122°W Tiger DEM
(Note that all of the state of California is now readily available from our California and Nevada page.)
Colorado - Pikes Peak
Pueblo - East            39°N/105°W-38°N/104°W Tiger DEM
Pueblo - West            39°N/106°W-38°N/105°W Tiger DEM
Connecticut - Hartford
Hartford - East          42°N/073°W-41°N/072°W Tiger DEM
Delaware - Wilmington
Wilmington - West        40°N/076°W-39°N/075°W Tiger DEM
District of Columbia - Washington, DC
Washington - East        39°N/077°W-38°N/076°W Tiger DEM
Washington - West        39°N/078°W-38°N/077°W Tiger DEM
Florida - Cape Canaveral
Orlando - East           29°N/081°W-28°N/080°W Tiger DEM
Georgia - Atlanta
Rome - East              35°N/085°W-34°N/084°W Tiger DEM
Atlanta - East           34°N/085°W-33°N/084°W Tiger DEM
Hawaii - Hawaii
Hawaii - Center          20°N/156°W-19°N/155°W Tiger DEM
Hawaii - East            20°N/155°W-19°N/154°W Tiger DEM
Hawaii - North           21°N/156°W-20°N/155°W Tiger DEM
Hawaii - South           19°N/156°W-18°N/155°W Tiger DEM
Hawaii - West            20°N/157°W-19°N/156°W Tiger DEM
Hawaii - Oahu
Oahu                     22°N/158°W-21°N/157°W Tiger DEM
Maui - Northwest         22°N/159°W-21°N/158°W Tiger DEM
Idaho - Sun Valley
Hailey - East            44°N/115°W-43°N/114°W Tiger DEM
Illinois - Chicago
Chicago - West           42°N/088°W-41°N/087°W Tiger DEM
Rockford - East          43°N/089°W-42°N/088°W Tiger DEM
Racine - West            43°N/088°W-42°N/087°W Tiger DEM
Aurora - East            42°N/089°W-41°N/088°W Tiger DEM
Indiana - Patoka Lake
Vincennes - East         39°N/087°W-38°N/086°W Tiger DEM
Iowa - Des Moines
Des Moines - West        42°N/094°W-41°N/093°W Tiger DEM
Kansas - Wichita
Wichita - West           38°N/098°W-37°N/097°W Tiger DEM
Kentucky - Daniel Boone
Jenkins - West           38°N/084°W-37°N/083°W Tiger DEM
Louisiana - New Orleans
New Orleans - East       30°N/090°W-29°N/089°W Tiger DEM
New Orleans - West       30°N/091°W-29°N/090°W Tiger DEM
Maine - Baxter
Millinocket - East       46°N/069°W-45°N/068°W Tiger DEM
Millinocket - West       46°N/070°W-45°N/069°W Tiger DEM
Presque Isle - East      47°N/069°W-46°N/068°W Tiger DEM
Presque Isle - West      47°N/070°W-46°N/069°W Tiger DEM
Maryland - Cumberland
Cumberland - East        40°N/079°W-39°N/078°W Tiger DEM
Massachusetts - Cape Cod
Providence - East        42°N/071°W-41°N/070°W Tiger DEM
Michigan - Mackinac
Cheboygan - East         46°N/085°W-45°N/084°W Tiger DEM
Minnesota - Iron Range
Hibbing - East           48°N/093°W-47°N/092°W Tiger DEM
Missouri - Mark Twain
Rolla - East             38°N/091°W-37°N/090°W Tiger DEM
Mississippi - Natchez
Natchez - East           32°N/092°W-31°N/091°W Tiger DEM
Montana - Waterton-Rexford
Cut Bank - West          49°N/114°W-48°N/113°W Tiger DEM
Kalispell - East         49°N/115°W-48°N/114°W Tiger DEM
Nebraska - Crescent Lake
Scottsbluff - East       42°N/103°W-41°N/102°W Tiger DEM
Nevada - Carson City
Chico - East             40°N/121°W-39°N/120°W Tiger DEM
Reno - West              40°N/120°W-39°N/119°W Tiger DEM
Sacramento - East        39°N/121°W-38°N/120°W Tiger DEM
Walker Lake - West       39°N/120°W-38°N/119°W Tiger DEM
(Note that all of the state of Nevada is now readily available from our California and Nevada page.)
New Hampshire - Mount Washington
Lewiston - West          45°N/072°W-44°N/071°W Tiger DEM
New Jersey - Center
Newark - East            41°N/075°W-40°N/074°W Tiger DEM
New Mexico - Albuquerque
Albuquerque - East       36°N/107°W-35°N/106°W Tiger DEM
New York - Utica
Utica - West             44°N/076°W-43°N/075°W Tiger DEM
North Carolina - Cape Hatteras
Manteo - West            36°N/076°W-35°N/075°W Tiger DEM
Rocky Mount - East       36°N/077°W-35°N/076°W Tiger DEM
North Dakota - Watford City
Watford City - East      48°N/103°W-47°N/102°W Tiger DEM
Watford City - West      48°N/104°W-47°N/103°W Tiger DEM
Ohio - Columbus
Columbus - East          40°N/083°W-39°N/082°W Tiger DEM
Columbus - West          40°N/084°W-39°N/083°W Tiger DEM
Oklahoma - Lawton
Lawton - East            35°N/099°W-34°N/098°W Tiger DEM
Oregon - The Dalles
The Dalles - East        46°N/121°W-45°N/120°W Tiger DEM
The Dalles - West        46°N/122°W-45°N/121°W Tiger DEM
Pennsylvania - Harrisburg
Harrisburg - East        41°N/077°W-40°N/076°W Tiger DEM
Rhode Island - Providence
Providence - West        42°N/072°W-41°N/071°W Tiger DEM
South Carolina - Lake Marion
Augusta - East           34°N/081°W-33°N/080°W Tiger DEM
South Dakota - Prairie Coteau
Milbank - East           46°N/097°W-45°N/096°W Tiger DEM
Milbank - West           46°N/098°W-45°N/097°W Tiger DEM
Tennessee - Tennessee River
Chattanooga - East       36°N/085°W-35°N/084°W Tiger DEM
Texas - Big Bend National Park
Emory Peak - East        30°N/103°W-29°N/102°W Tiger DEM
Emory Peak - West        30°N/104°W-29°N/103°W Tiger DEM
Utah - Glen Canyon
Escalante - East         38°N/111°W-37°N/110°W Tiger DEM
Escalante - West         38°N/112°W-37°N/111°W Tiger DEM
Vermont - Montpelier
Lake Champlain - East    45°N/073°W-44°N/072°W Tiger DEM
Virginia - Richmond
Richmond - West          38°N/078°W-37°N/077°W Tiger DEM
Washington - Mount Rainier
Yakima - West            47°N/122°W-46°N/121°W Tiger DEM
Hoquiam - East           47°N/123°W-46°N/122°W Tiger DEM
Wenatchee - West         48°N/122°W-47°N/121°W Tiger DEM
Seattle - East           48°N/123°W-47°N/122°W Tiger DEM
West Virginia - Beckley
Bluefield - West         38°N/082°W-37°N/081°W Tiger DEM
Wisconsin - West Bend
Madison - East           44°N/089°W-43°N/088°W Tiger DEM
Wyoming - Yellowstone National Park
Ashton - East            45°N/111°W-44°N/110°W Tiger DEM